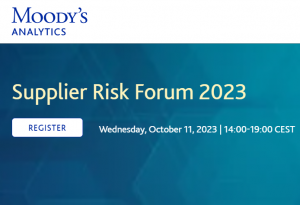 TYS Cofounder & CEO, Sai Nidamarty, along with Lenovo COO, Renee Ure, will be panelists during Moody's 2023 Supplier Risk Forum.
Conference Description:
Join us for our exclusive Supplier Risk Forum in Paris, where our industry experts and external partners, will provide you with actionable insights, innovative strategies, and practical examples to help you enhance and communicate your supply chain strategy.
Panel Discussion with Renee Ure: How to Gain CEO's and Board's Buy-in for Investments in Supply Chain Risk Management
Panel Discussion with Sai Nidamarty: The Future of Supply Chain Risk
To view the agenda, register, or learn more, visit Moody's Live.
Moody's Supplier Risk Management
TYS Partner
Sourcing Industry Landscape Podcast
with TYS & Moody's Analytics