by Gary Storr, General Manager
"How do we overlay today's needs with tomorrow's needs and build a bridge that organizations can invest in today and be ready for tomorrow?"
During a recent interview, I gave the above response to the question "Where is supplier management technology now, and what it will look like in the future?" It is seemingly a straightforward question. But underlying its simplicity is the complexity of building and proactively managing dynamic and interconnected supply networks in a volatile global marketplace.
Now one might think that as a solution provider, my focus would be on the technology part of the equation. Even though emerging AI technology is the main event when it comes to supplier management, you must look beyond it to the experience and expertise behind it.
Think about it for a moment. ESG investing began in the 1960s as "socially responsible investing, with investors excluding stocks or entire industries from their portfolios." The industries on the no-investment list included tobacco companies and any businesses deemed to be supporting the apartheid regime in South Africa.
Now ponder this fact – ESG reporting did not begin until 2004 under the UN "Who Cares Wins" banner. Here we are in 2023, and it is only recently that things like carbon emissions, ESG, and global compliance have become emerging mainstream regulatory concerns.
The above "timeline" raises two essential questions:
Why are companies now scrambling to comply with new legislative requirements and proposed future ones when we saw this train coming as far back as the 1960s?

Regarding future regulations, e.g., ESG, what will the reporting (and technology) requirements be next year or decade? By the way, if you want a glimpse into what is on the compliance horizon, check out the following ESG Regulations link.
From my standpoint and experience, we need to do two things so that we don't continue to play catch-up with known and unknown compliance realities. In today's post, I will tell you the two things you need to do to stop chasing compliance and start mastering (and benefiting) from it.
First, A History Timeline Review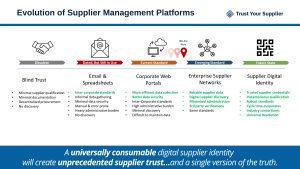 Regarding the evolution of supplier management platforms, the old saying "if you can't measure it, you can't manage it" tells a notable story.
In the above graphic, you will note how we have progressed from a "blind trust" qualification process to where we are today – somewhere between email and spreadsheets and corporate web portals.
As your service provider, you will be happy to know that we are on the leading edge of the emerging standard: enterprise supplier networks. I will get into what this emerging standard is shortly.
That said, we have also created an overlay between today's and tomorrow's supplier management needs. Why is this important?
It is important because instead of implementing technology to catch up with emerging requirements, we are also creating a seamless bridge to put you out front of the proverbial curve to address not yet known future requirements. If you think about it, this will be the first time that your AI technology capability will – through supplier digital identity, put your organization ahead of future industry demands. 
The Here And Now
In Part 2 of this series, I will get into the specifics of supplier digital identity. However, we can't take our eyes off the immediate challenges you face in managing your present-day supplier network, including the importance of:
Reliable supplier data

Digital supplier discovery

Minimized administration

3rd party verifications
Through this immediate capability, you will meet today's demands while laying a universally consumable digital supplier identity foundation that will create unprecedented supplier trust and a single version of the truth.
Up Next: The Evolution of Supplier Management (Part 2) – Winning The Tomorrow War, Today