In the dynamic landscape of digital procurement, the recent DPW Amsterdam 2023 conference featured a thought-provoking panel discussion hosted by Michelle Armstrong, the Global VP of Value Solutions for Trust Your Supplier (TYS). With participants including Diarmuid O'Donoghue, Head of Digital Procurement Garage at BT Sourced, and Dr. Elouise Epstein, a Partner at Kearney, the discussion provided valuable insights into the evolving realm of procurement and the role of blockchain in its future. 
Trust Your Supplier (TYS), a patented information network built with IBM Hyperledger blockchain was designed for digital identity verification of suppliers. The platform focuses on fostering collaboration among strategic partners to enhance information reliability and reduce supply chain risks. 
Here are the discussion points and key takeaways from the session recording: 
The Value of Digital Identity
Emphasizing the significance of digital identity, Michelle highlights the growing importance of synergizing information among augmented providers. She underscores the relevance of such collaboration in the context of emerging regulations like the supply chain due diligence and ESG (Environmental, Social, and Governance) requirements. 
Insights from Diarmuid O'Donoghue on BT Sourced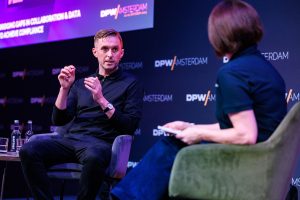 Diarmuid provides valuable insights into BT Sourced, a separate procurement entity based in Dublin, Ireland, supporting BT's diverse needs. The organization's mission revolves around leveraging technology for a better future, with a strong focus on diversity, digital innovation, and predictive analytics. 
The Significance of "BT Sourced"
Diarmuid explains the rationale behind the choice of "BT Sourced" as opposed to "procurement." He highlighted how the name aligns seamlessly with their mission, incorporating both digital and human aspects. 
Dr. Eloise Epstein's Perspective on Procurement Marketing
Dr. Elouise Epstein echoes the sentiment of rebranding procurement, emphasizing the need to move beyond jargon and make it more accessible to the broader business community. Her perspective sheds light on the importance of effective communication in fostering collaboration. 
Blockchain's Role in Decision Making
Diarmuid emphasizes the pivotal role of blockchain in ensuring security, privacy, and traceability throughout the procurement process. He highlights how blockchain contributes to building trust and accountability, crucial elements in the decision-making process. 
Supplier Adoption and Digital Identity  
Michelle delves into the challenges of getting suppliers to adopt new strategies and digital native blockchain technologies. She acknowledges BT's success in convincing internal teams, external suppliers, and partners to embrace the process. 
Key Takeaways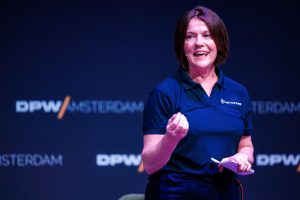 The importance of having a unified vision and strategy to prevent technology from overshadowing goals.

 

BT Sourced's ambition to become the most digitally skilled global procurement company with a focus on self-service, customer experience, and quick data access.

 

Eloise Epstein's critique of the complexity suppliers face in transacting with organizations and the need for simplifying supplier experience management.

 

Diarmuid O'Donoghue's confidence in the future of the digital wallet concept for suppliers, empowering them to control and share data.

 

Michelle's vision of a future where suppliers possess a portable wallet with continuously updated information on ESG, cybersecurity, and more.

 
Collaboration and Challenges in Procurement
Michelle praises the trend of digital garages and highlights the importance of a unified digital identity for suppliers. Diarmuid discusses BT's digital strategy, mentioning a recent digital week that fostered collaboration with vendors. 
Key Insights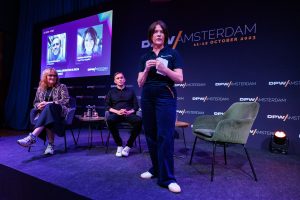 The significance of collaboration within digital garages, emphasizing the need for one set of Digital Service Orchestration (DSO) standards.

 

BT's digital week as a platform for collaboration with vendors, generating positive energy for potential partnerships and integrations.

 

The value of competitors and vertical industries collaborating, aligning compliance and due diligence efforts for a streamlined approach.

 

Dr Eloise Epstein's emphasis on upskilling people, especially in digital competency, and the encouragement to prioritize human elements alongside AI.

 

Audience questions touching on convincing suppliers to adopt blockchain, ensuring interoperability among vendors in different industries, and the importance of open dialogue and collaboration.

 
Conclusion
The DPW Amsterdam 2023 panel discussion provided a rich tapestry of insights into the evolving landscape of digital procurement. From the role of blockchain in decision-making to the challenges of supplier adoption and the importance of collaboration within digital garages, the discussion highlighted the need for a unified approach, innovative solutions, and a human-centric perspective in the ever-evolving world of procurement.  
As organizations continue to navigate the complexities of digital transformation, these insights serve as valuable guideposts for the future of procurement excellence. 
Want to learn more? Let's talk!
 *** 
Trust Your Supplier (TYS) is a Small, Minority and Woman owned business with a global reach offering an innovative blockchain-based solution for supplier and risk management to large and mid-size enterprises. By harnessing the immutability of the blockchain, TYS ensures daily monitoring, historical, predictive, and prescriptive risk insights, enabling trusted data exchange and workflow automation beyond traditional boundaries. This distributed ledger technology fosters transparency, efficiency, and empowerment for businesses to effectively manage suppliers and mitigate risks.