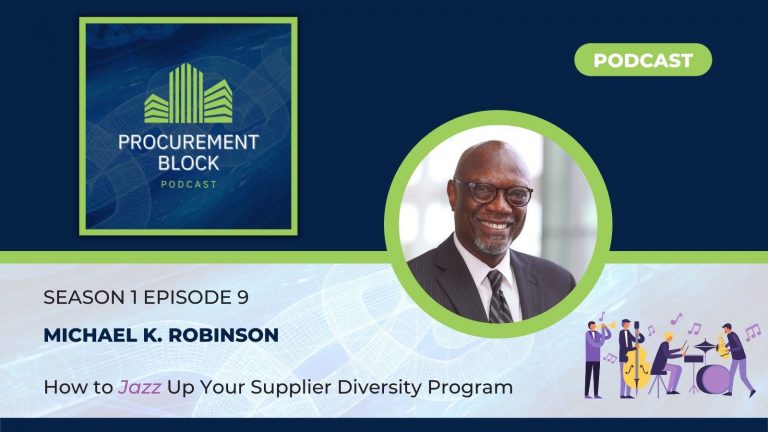 In this episode, Michael K. Robinson brings his wealth of knowledge and experience to our conversation on supplier diversity. He explains how to jazz up your supplier diversity program by understanding the benefits, how to identify and attract diverse suppliers, and what to take into consideration when implementing or expanding a program. 
Michael K. Robinson, Program Director, IBM Global Supplier Diversity 
Michael K. Robinson is Program Director, Global Supplier Diversity for IBM's Integrated Supply Chain. He is responsible for leading IBM's supplier diversity initiatives worldwide. In this role, Michael, and his team, focus on the utilization, development and mentoring of diverse suppliers who can provide value-add to IBM's Supply Chain. 
Under Michael's leadership, IBM has been recognized for numerous awards and a sampling of these awards are: Corporation of the Year by the NMSDC (3x), one of the Top Corporations by WBENC (13x), USBLN Corporation of the Year (2x), NGLCC Corporation of the Year (2x), Apex Award by NGLCC and HRI, the Francis Perkins Van Guard Award by the SBA, WBEC-PA/DE/sNJ Corporation of the Year, CMSDC Corporation of the Year, NY/NJ MSDC Corporation of the Year, Michigan MBC IT Corporation of the Year, one of Asian Enterprises Top Corporations, and one of DiversityBusiness.com's Top Corporations to name a few. IBM has spent in excess of $2Billion, 1st Tier, annually worldwide with diverse enterprises since 2006 and in excess of $1B, 1st Tier, annually with diverse enterprises in the U.S. since 2000. 
Michael's IBM experience has spanned various disciplines. His previous positions include: Manufacturing Manager, Procurement and Production Control Manager in Charlotte, NC; Distribution Manager in Boulder, CO; ECAT Site Procurement Manager in Charlotte, NC; Materials Manager in San Jose, CA; Business Services Council Chair in Charlotte, NC and Federal Procurement Manager in Bethesda, MD. 
Michael attended the Georgia Institute of Technology in Atlanta, Georgia; received his BS from Cheyney University in Philadelphia, Pennsylvania and his MBA from Atlanta University, Atlanta, Georgia. 
Board Affiliations 
Clarke-Atlanta University Supply Chain Leadership Advisory Board

The Conference Board Council on Supplier Diversity

Minority Business News National Board of Advisors Committee

Women's Business Enterprise (WBENC) Board

WEConnectInternational Board Chair Emeritus

 
Recognition 
Diversity:INAdvocate of the Year

 

NMSDC Legacy Award

NGLCC Legacy Award

WBENC William J. Alcorn Leadership Award

USDoC, MBDA Agency, Ronald Brown Leadership Award

Named One of the Best of IBM

Congressional Executive Leadership Awardee

NMSDC's Supplier Diversity Leader of the Year (3x)

One of the 50 Powerful Men in Business by Minority Enterprise Executive Council

Champions of Diversity byDiversityPlus
Connect with Michael 
LinkedIn: https://www.linkedin.com/in/michael-robinson-4304795/  
Grover Washington Spotify Playlist 
Procurement Block Host
April Harrison is the Marketing Director for Trust Your Supplier, an innovative supplier information network built on blockchain technology. April's background includes real estate and teaching. April received her degree in Psychology and History from the University of North Carolina at Chapel Hill.  Notice what's not in her background? Procurement!   
April has been enjoying Michael's recommendation of Grover Washington's "Live at the Bijou" album. It has really "jazzed" up her afternoons (cue the drum fill)!

Connect with April Harrison 
April on LinkedIn: https://www.linkedin.com/in/april-harrison-ab91881/  
Procurement Block website: www.ProcurementBlock.com  

Music by jorikbasov from Pixabay 
Procurement Block is produced by Trust Your Supplier