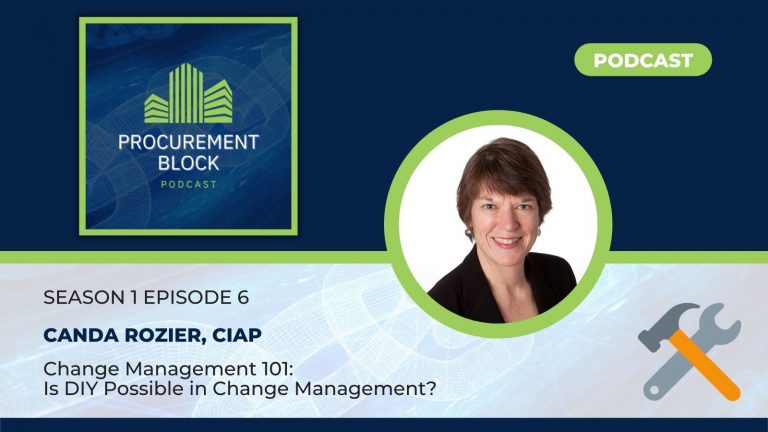 In this episode, Canda Rozier and I discuss change management. Learn why it's important to skillfully prepare for any change, to stay aware of the domino effect, and how to avoid costly mistakes. Canda's advice carries over into any project, such as a kitchen remodel. Strap on your tool belt for this episode. 
Canda Rozier, CIAP 
Canda Rozier is the Founder and President of Collabra Consulting, focused on procurement transformation, sourcing excellence, and cost improvement. She was most recently SVP (CPO) Global Procurement & Real Estate, at NTT Security, with responsibility for strategic sourcing, category management, procurement, cost reduction & spend management projects, and vendor contract negotiations, as well as all global real estate and facilities.  
With over 30 years industry experience, Canda was previously Chief Procurement Officer and SVP Global Real Estate at First Data Corporation, where she led the centralization and globalization of strategic sourcing/procurement and the operational transformation of real estate/facilities management worldwide, and had a senior role in the $29B private buyout of FDC. 
Previous roles have included senior positions at Unisys/Burroughs and American Express. Canda has served on the Advisory Board for the Sourcing Industry Group (SIG), and is based in Colorado with a BA from Davidson College. She is a Certified Intelligent Automation Professional (CIAP).  Canda is a frequent contributor to sourcing industry publications, speaks at industry conferences and events globally, and is a 2019 Sourcing Star Award Winner of the SIG Future of Sourcing Award.   
Connect with Canda: 
LinkedIn: www.linkedin.com/in/csrozier 
CPO Arena LinkedIn: https://www.linkedin.com/in/cpo-arena-7a08851bb/  
CPO Arena YouTube: https://www.youtube.com/channel/UC4LLbIhKih3dSFSY_2ZCtLA  
Procurement Block Host
April Harrison is the Marketing Director for Trust Your Supplier, an innovative supplier information network built on blockchain technology. April's background includes real estate and teaching. April received her degree in Psychology and History from the University of North Carolina at Chapel Hill.  Notice what's not in her background? Procurement!   
April's DIY skills are limited to painting and changing the cabinetry hardware. All else requires an expert! 
Connect with April Harrison 
April on LinkedIn: https://www.linkedin.com/in/april-harrison-ab91881/  
Procurement Block website: www.ProcurementBlock.com  

Music by jorikbasov from Pixabay 
Procurement Block is produced by Trust Your Supplier