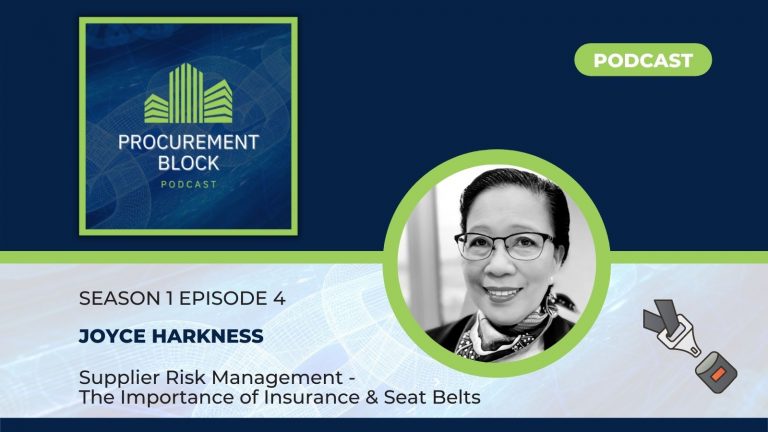 In this episode, Joyce Harkness and I discuss supplier risk management and how it relates to  insurance and wearing your seatbelt. Join us as we talk about the power of rejection, the 3 components of supplier risk management, and the 5 broad steps you'll want to make as part of your process. 
Joyce Harkness Bio 
Joyce has held a broad range of senior leadership roles in business & IT transformation, customer operations and IT management, in companies like Nortel Networks, Fairchild Semiconductors, Australia's NBN Co and Avant Mutual, while based in Australia, the Philippines, and the USA.  
She likes solving complex problems and bringing people together to achieve extraordinary outcomes that last. In a sense, this is the common theme in the roles she filled and her pursuits in life. 
She started as an engineering graduate at Fairchild Semiconductors, where she designed the process for mass manufacture and assembly of discrete surface mount devices, at the start of the miniaturization era. She later joined Nortel Networks in Australia and took on expanding roles in business and IT transformation for Asia Pacific and then the global programs. After Nortel, she became one of the first employees of the Australian government business enterprise start-up National Broadband Network or NBN Co, that is building and operating the national superhighways for digital information across the country. In her recent roles as Chief Information Officer of financial services and medico-legal firms, she led IT transformation to enable diversification and growth strategies, while building a strong foundation for operations stability, cyber security, and improved customer experience. Her interest in leadership coaching, cyber security and digital transformation continues, both personal and professional. 
Joyce was born in the Philippines and graduated from the University of the Philippines - Diliman with a degree in Chemical Engineering. She earned a master's degree in business administration from Macquarie Business School in Australia and completed advanced studies in Cyber Security from Stanford University. 
She now lives in Australia with her family. 
Joyce offers mentoring and coaching services to technical experts who want to increase their influence and impact in their organisations. These days, she can do this remotely via video calls across Asia Pacific, Australia and New Zealand.  
In Australia, Joyce is open to interim executive assignments as Chief Information Officer or related roles, as well as advisory and consulting assignments focused on business and IT transformations. 
Connect with Joyce: 
Linkedin: https://www.linkedin.com/in/joyceharkness/ 
April Harrison is the Marketing Director for Trust Your Supplier, an innovative supplier information network built on blockchain technology. April's background includes real estate and teaching. April received her degree in Psychology and History from the University of North Carolina at Chapel Hill.  Notice what's not in her background? Procurement!   
April's favorite take-out restaurants are Cava and Chipotle. She would make a terrible waitress (clumsy)! 
Connect with April Harrison 
April on LinkedIn: https://www.linkedin.com/in/april-harrison-ab91881/  
Procurement Block website: www.ProcurementBlock.com  

Music by jorikbasov from Pixabay 
Procurement Block is produced by Trust Your Supplier