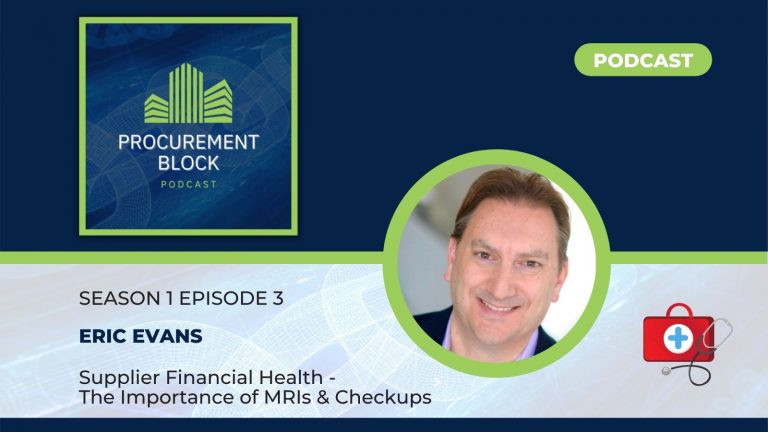 In this episode, Eric Evans and I discuss supplier financial health and how just like your physical health, you'll want to practice preventative measures and get regular check-ups.  Listen in as we discuss how to recognize the symptoms of a financially deteriorating company, determining resiliency, and how automation can help with monitoring supplier health. 
Eric manages strategic partnerships/alliances at RapidRatings including leading partner API integrations into procurement, supplier risk and governance risk & compliance platforms to benefit joint clients. Eric is involved with various working groups of Shared Assessments including Co-Chair of the Continuous Monitoring Group. Eric has over 20 years work experience from various companies including:  Aetna, EDGAR Online, Donnelley Financial Solutions.  He graduated from University of Connecticut a BS in Finance and completed his MBA in Finance at University of Hartford. He is based in the RapidRatings NYC office and lives with his wife and Cavalier King Charles in Stamford, CT.
Connect with Eric 
Linkedin: https://www.linkedin.com/in/eevans1/  
Email: [email protected] 
Website: https://www.rapidratings.com/ 
April Harrison is the Marketing Director for Trust Your Supplier, an innovative supplier information network built on blockchain technology. April's background includes real estate and teaching. April received her degree in Psychology and History from the University of North Carolina at Chapel Hill.  Notice what's not in her background? Procurement!  April loves learning new things, especially about areas that are on the verge of major transformation. April stays healthy by teaching aerobics and making green smoothies! 
Connect with April Harrison 
April on LinkedIn: https://www.linkedin.com/in/april-harrison-ab91881/  
Procurement Block website: www.ProcurementBlock.com  

Music by jorikbasov from Pixabay 
Procurement Block is produced by Trust Your Supplier