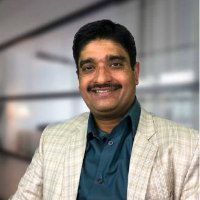 Sai Nidamarty
Chief Executive Officer
Sai Nidamarty is a well-respected global leader in the world of information technology with over twenty years of experience in software/hardware development, IT consulting, and business development. As the CEO and co-founder of Trust Your Supplier, Sai showcases his visionary thinking and innovative spirit as he secures his legacy in the world of supply chain management. 
Sai's IT expertise and time at global tech giant IBM have given him a unique perspective on how to streamline processes and improve efficiency. His impressive track record leading global, cross-functional teams to ensure seamless collaboration among stakeholders has made him an invaluable asset in supply chain management. Sai's passion for improving the industry has led him to envision a future where administrative burdens are reduced and efficiency is not just a buzzword but a reality. 
As the CEO of Trust Your Supplier, Sai is a trailblazer in supply chain management. His professional and optimistic tone highlights the transformative potential of blockchain technology and digital wallets, allowing suppliers and enterprises a glimpse into a future that prioritizes streamlined processes and improved efficiency. 
Sai's Master's degree in Computer Engineering from Florida Atlantic University has provided him with a strong foundation in the technical aspects of IT. This knowledge and his impressive business and leadership acumen have allowed him to successfully develop new service offerings for clients and elevate IT People to new heights. 
With his impressive background, innovative thinking, and unwavering optimism, Sai Nidamarty embodies the spirit of Trust Your Supplier. His partnership with IBM not only adds to his credibility but also positions him and his team as leading innovators in the world of supply chain management. Sai and his team are determined to revolutionize the industry, making it more efficient, streamlined, and forward-thinking than ever before.